Marriage Retreat at the Castle at Glen Eyrie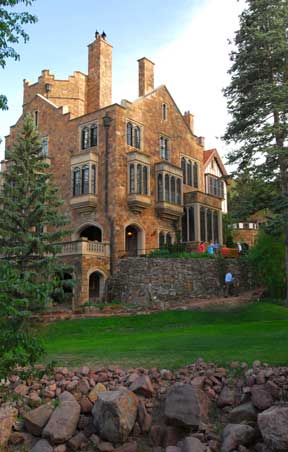 You'll Be Treated Like Royalty at the Spectacular Glen Eyrie Castle Retreat Center. Cornerstone's all-inclusive Premier Marriage Retreat at the at Glen Eyrie includes program, materials, gourmet meals for two and a room at the beautiful Glen Eyrie Castle. Glen Eyrie is nestled in the foothills of the Rocky Mountains, tucked away on 800 gorgeous acres, a beautiful retreat and conference center, ideally suited for a A New Beginning, Marriage Renewal Retreat. With stately pines, whispering aspen, lush lawns, sparkling waterfalls and majestic sandstone rock faces, the air is alive with the sound of birdsong and breeze through the trees-often the only sounds of a Glen Eyrie afternoon.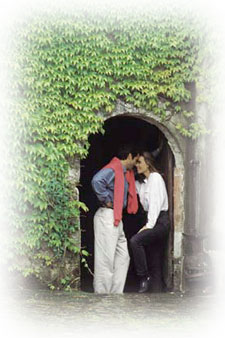 A Weekend To Renew Your Marriage and Make It Loving  Again!
Cornerstone's unique New Beginning, Marriage Renewal Retreat offers a a proven, highly effective alternative to traditional marriage counseling. Our team of trained facilitators and counselors walks couples through guided exercises that reveal the hidden barriers that keep their marriage from thriving and  then help them to take steps towards healing their relationship, repairing issues, establishing effective communication patterns and rebuilding a , more intimate,  caring marriage.  Even if your marriage has become  cold, or distant, or regardless of what feelings you may have  now towards each other, experiencing this weekend will dramatically  change your relationship, heal hurts, infuse you and your mate with new hope, and put you on the road to recovery and life-long love.
It is more than just the typical "feel good" inspirational-type program. At Cornerstone's New Beginning, Marriage Renewal Retreat you'll  resolve issues through in-depth, guided exercises.  You'll be challenged and empowered to take an honest look at yourself and your marriage, to put the past behind, deal with the relevant issues specific to your marriage, and  rediscover the feeling of love and friendship in your marria
                                                                                                                                                                                                                                                              Restore…Reconnect….Rediscover more love than you ever thought possible!
We've had great success in restoring marriages that have been pulled apart by stress and pressures, conflict and communication difficulties,  marriages struggling from a trauma or other major hurts such as an affair, career or mid-life crisis, or death of a child… even couples who are separated, or trying  to decide whether to stay together. In fact, many of the couples come due to the pain and hopelessness of an affair or other crisis.  Based on leading marital research, timeless biblical principles, and our more than 20 years of experience working  with thousands of distressed marriages, this high-impact, intensive weekend can change your life, turn your marriage around, and put you on the path to life long love…more
A Historic Castle is the Centerpiece of Glen Eyrie
The moment you enter the gate to the enchanting Glen Eyrie Retreat Center and Castle, you'll step back in time and enjoy a wonderful get-away from the hectic pressures of daily life.  The perfect mix of beauty, history, modern amenities and gorgeous Rocky Mountain scenery -all make for a  marriage retreat that  promises to be simply unforgettable.
Beautiful outdoor spaces provide opportunities to go on walks in nature, from the Castle's grand terrace to grassy lawns. Enjoy a panoramic view from a mountainside trail  or sit under a shade-tree while watching the Bighorn sheep graze.Between scheduled activities, relax on the Castle terrace.  Within Glen Eyrie there is a feeling of total serenity. With delicious gourmet meals provided, a coffee shop and sundries store available on-site at the Carriage House, you'll likely feel no desire to leave until the Retreat is over- all too soon.
Why the Traditional "hour-a-week" counseling approach is Ineffective for Struggling Marriages…
If you had a serious medical condition and needed surgery, would your doctor do the surgery "an hour a week" for weeks and weeks at a time?  Of course not – and that's why Cornerstone's intensive, marriage counseling retreat is so effective. It allows for couples needing urgent care to heal their relationship over a 3-day, 22-hour marriage healing intensive weekend. Once this "major surgery" has been accomplished, couples are able to achieve a thorough and speedier recovery in their marriage.
Trying to heal a marriage in 1-hour, weekly counseling sessions is ineffective because most issues can't be resolved in a 1-hour counseling session. In a 1-hour session, often by the time the couple gets to the root of an issue–it's time to end the session. Consequently, couples often end up just opening up old wounds and then leaving discouraged, feeling more hopeless than before. Yet, over 86% of couples who come to our Marriage Renewal Retreats and seminars reconcile and re-commit to their marriage," including even those where there's been infidelity, separation or even a divorce already filed.
Cornerstone's nationally acclaimed marriage counseling retreat consists of a 3-day, 2-night, marriage intensive weekend, along with an optional "after-care series of 4 in-home study sessions, and optional private tele-coaching sessions. The program, developed over 24 years of experience in working with couples in crisis, offers an effective proven alternative to the difficult, long-term traditional marriage counseling process.
Our team of experienced counselors walks couples through guided exercises that reveal the hidden barriers that are keeping their marriage from thriving, and guides them in taking the steps to heal their relationship and rebuild a healthy, more satisfying marriage.
The program involves identification of relational issues, and working a step-by-step process for resolving these issues through in-depth, private, guided exercises. You and your spouse will be challenged and empowered to take an honest look at yourself and your marriage, deal with relevant issues, heal hurts, put the past behind, and rediscover the experience of love in your marriage.
Financial Assistance Available
Subscribe and Get Marriage Saving Tips and Updates
We Are Active Members In:

The American Association of Christian Counselors
The Marriage and Family Counselors Network
Christian Counselors of Texas
The Association of Marriage and Family Ministries